TheSkyX Pro Database Add On - Own the Stars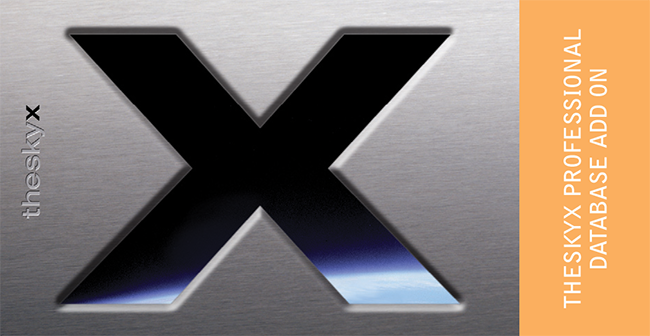 If you want more stars, more sky, more photos, and more astronomical catalogs, consider the TheSkyX Professional Edition Database Add On.  With over 165 GB of star catalogs, optimized star catalogs and the complete photographic Digitized Sky Survey (10x compression version, distributed with permission), you'll be ready to conquer the universe.  
Catalog Name

Number of Stars/Sky Coverage

Approximate Size (GB)

Larger Gaia subset

 

1.7 billion

95

Smaller Gaia subset

 

100 million

4

AAVSO Photometric All-Sky Survey

 

60 million

2

Large TheSkyX Pro-specific UCAC4 plot file

 

90 million

2

Digitized Sky Survey (10x compression)

Photographic data for the entire celestial sphere

60

All Sky Image Link Database

 

n/a

2

Total

 

168 GB
The databases and files in TheSkyX Pro Add On product are distributed on a USB SSD drive and can be purchased from the Software Bisque Store.
TheSkyX Pro Database Add On is compatible with TheSkyX Pro for macOS, Windows, Linux (ARM64, x86_64) and Raspbian (Raspberry Pi ARM32/ARM64).  See TheSky's Minimum System Requirements for details.
---
Database Add On Copyright Information
The large and small TheSkyX Professional Edition-specific plot files included on the Database Add On hard drive are copyright Software Bisque and cannot be redistributed. 

The Digitized Sky Survey is for private, non-commercial use and is copyright AURA; it cannot be redistributed without written permission. 
TheSkyX Pro Database Add On Documentation