This page provides an overview of what you need to know about Software Bisque software.
Download Links, Serial Numbers and Registration FAQs
In order to install and run the Software Bisque software, you must do the following:
Download the software's full installer to your hard drive.  The full installer copies all the files required to run the software to your computer's hard drive.

If you purchased a boxed version of the software, insert the DVD that is included in the box into your computer's DVD player.
If you purchased a Paramount mount, insert the thumb drive into the computer's USB port.

Run the software installer by double-clicking on the installer file you downloaded, or running the installer on the media (DVD or thumb drive).  The installer copies the files needed to run the application to your computer.
Launch the software and enter your serial number to activate it.
Frequently Asked Questions (FAQs)
---
Software Downloads
If you purchased software from the Software Bisque web store, or registered the serial number that was included with your Paramount mount, TheSky installers and updates are available from My account > My Downloads.

If no downloads are available, make sure your subscription is active by clicking My account > My Subscriptions.  Click the Re-subscribe or Reactivate graphic and follow the checkout procedure to renew your annual subscription.

After logging in, click Support > Other Downloads, to access resources other than purchased software (including user guides, technical drawings, etc.).
Notes: Typically there is a Full Installer and a Latest Update installer and first time you will download both.  Install the Full Installer, then install the Latest Update.  (As new versions are posted, you will periodically need to download and install the latest update installer).
Important Software Module Notes:
---
Where are my Serial Numbers?
If you have not done so, click My account > Login to login then click My account > My Serial Numbers or My account > My Subscriptions to view your registered serial numbers.
Location of serial numbers for products not purchased directly from the Software Bisque Store
The serial numbers for Software Bisque products purchased from an authorized reseller are located on the software media cover. 
Paramount Software Suite serial numbers are printed on a card included with the mount.
Follow the instructions on the Software Bisque Product Registration page to have your serial numbers registered.  You will not be able to access product downloads until your serial number has been registered to your account.
---
Why Am I Getting Access Denied when Attempting to Download Software?
Follow the flow chart below, then click on the appropriate answer to proceed: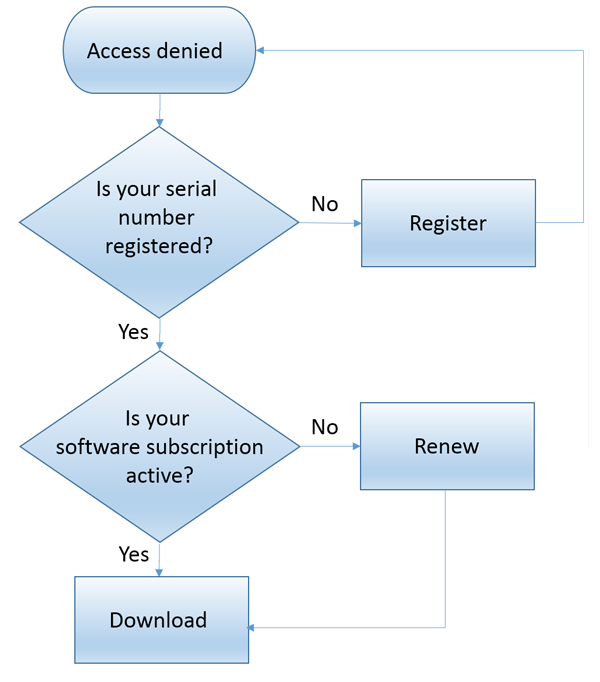 Why access may be denied
Your serial number has not been registered.  See "How Do I Register My Serial Number?" below for details.  Once your serial number is registered, you will be granted access to the full installer and latest update for that product. 
Your serial number was registered under a different account (so the account under which you are signed in does not have permission to download the file).  You must sign into the account under which the serial number was registered to download installers and updates.  Ideally, you should not have multiple accounts with Software Bisque.  We can merge your accounts if necessary.
Your software subscription has expired.  Please renew your software subscription so that you can access the latest installers and updates.  Click here for details.
---
How Do I View My Orders, Invoices and Subscriptions?
Go to www.bisque.com.
Click My account > Login.
Once logged in, click My account > My Orders.
---
How Do I Register My Serial Number?
Please follow the instructions at https://www.bisque.com/register.  Thanks for your patience as this process is not yet automated, and is performed during regular business hours.
Important Notes: 
A given serial number can only be registered once, to a single account.  If your product's serial number is already registered, you need not register it again.
When you purchase software from the Software Bisque Store, the serial number is automatically registered to your account and need not be registered again.
If you have multiple Software Bisque accounts and attempt to register a serial number that has already been registered under a different account, the registration page will report that the serial number is already registered.  In this case, you must sign into the account under which the software was originally purchased to access software installers and updates.