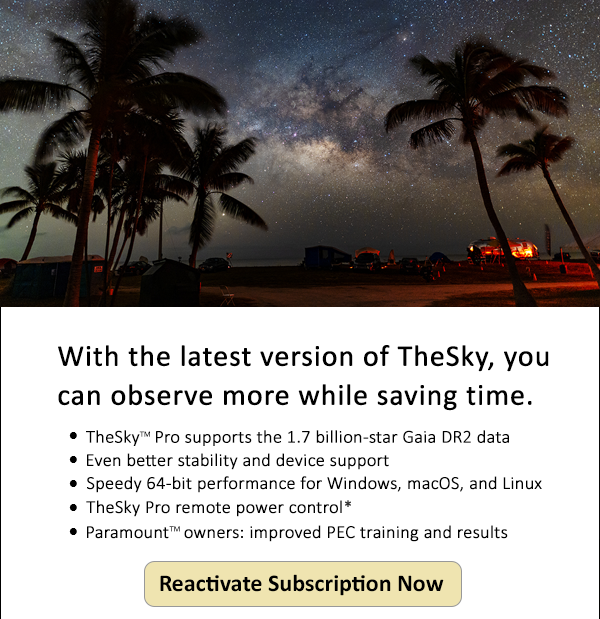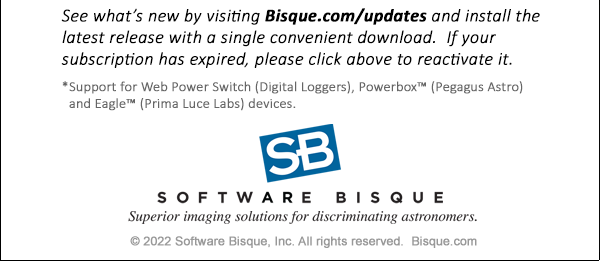 Click here to reactivate your subscription now!
"What's New" Details
Gaia support with up to 1.7 billion stars. Yes that is billion with a "b"!
TheSky 64 bit for Windows excels controlling high-resolution cameras.
Streamlined PEC Training for Paramount owners.
Check out the most recent list of supported cameras and other equipment.
There is more! See the complete list of changes in the latest release of TheSky.
How do I renew my annual software subscription?
The steps below describe how to renew your annual software subscription.
Click My account > Log In and log in if necessary.
Click My account > My Subscriptions to view your subscriptions.
Click on the View graphic next to the subscription you wish to reactivate.
If the subscription has not yet expired, click the Reactivate graphic. If the subscription has expired, click the Re-subscribe graphic.
Complete steps 2-5 to renew other expired subscriptions, for example, the Multi-OS+ module.
Complete the checkout process.
After Renewing Your Subscription
Your subscription will be active for one year after renewal, and you will receive a confirmation email with your order (check your spam/junk folders). Thank you so much for renewing!
Downloading the Latest Release
Click My account > My Downloads to access the latest software installers and updates that are available with your subscription. Remember, nothing physical, such as software media, or a box or printed user guide is shipped to you.
Need a Hand?
Our thriving, helpful support community is available for you. We appreciate your participation. Join the discussion, or get help from others.
---
Click here for instructions how to opt out of receiving promotional emails.
Software Bisque is not responsible for typographical errors in this email.
© 2022 Software Bisque, Inc. 862 Brickyard Cir. Golden, CO 80403 USA. All rights reserved.
---