Dear Fellow Astronomer,
We hope this email finds you gazing at the stars with a sense of wonder and awe. We wanted to take a moment to express our heartfelt gratitude for being a valued member of the Software Bisque family and for making TheSky the incredible astronomy software it is today.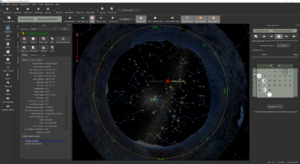 The above graphic (animated gif) shows TheSky running on a modest MacBook Pro with twenty thousand satellites loaded while still maintaining twenty frames per second.
Your unwavering support and enthusiasm for TheSky have been instrumental in shaping our software, guiding us to introduce innovative features and enhancing the user experience. It is your passion that fuels our dedication to bringing you the very best tools for exploring and understanding the cosmos.
Since your subscription began, we have continued to push the boundaries of what TheSky can do, and we're thrilled to have you along for the journey. As a token of our appreciation, we wanted to highlight some of the new, extraordinary features that make TheSky a must-have for every stargazer:
GAIA Support with up to 1 billion stars.

New Train PEC feature, a single button for training PEC.
We are truly honored to have you as part of our community, and we remain committed to providing you with a software that inspires, educates, and fills your nights with celestial marvels. Your ongoing support enables us to expand our horizons and bring new innovations to TheSky.
Once again, thank you for choosing TheSky as your trusted companion in exploring the universe. We value your patronage and look forward to many more years of stargazing together.
Clear skies and endless wonders!
The Software Bisque Team
P.S. As a special thank you, we're offering an exclusive 10% discount on your next subscription renewal. Use the code "STARGAZER10" during checkout to claim your discount. This is our way of showing our appreciation for your loyalty.
Click here to renew your subscription now!
"What's New" Details
Gaia support with up to 1.8 billion stars.
See the complete list of changes in the latest releases of TheSky.
How do I renew my annual software subscription?
The steps below describe how to renew your annual software subscription.
Click My account > Log In and log in if necessary.
Click My account > My Subscriptions to view your subscriptions.
Click on the View graphic next to the subscription you wish to reactivate.
If the subscription has not yet expired, click the Reactivate graphic. If the subscription has expired, click the Re-subscribe graphic.
Complete steps 2-5 to renew other expired subscriptions, for example, the Multi-OS+ module.
Complete the checkout process.
After Renewing Your Subscription
Your subscription will be active for one year after renewal, and you will receive a confirmation email with your order (check your spam/junk folders). Thank you so much for renewing!
Downloading the Latest Release
Click My account > My Downloads to access the latest software installers and updates that are available with your subscription. Remember, nothing physical, such as software media, or a box or printed user guide is shipped to you.
Need a Hand? Can You Lend a Hand?
Our thriving, helpful support community is available for you. We appreciate your participation. Join the discussion, or get help from others.
---
Click here for instructions how to opt out of receiving promotional emails.
Software Bisque is not responsible for typographical errors in this email.
© 2022 Software Bisque, Inc. 862 Brickyard Cir. Golden, CO 80403 USA. All rights reserved.
---