This red box will simplify your imaging life…
TheSky Fusion™ marries TheSky™ Imaging Edition, the world's single-most capable device control and image acquisition software, with intelligently designed hardware to power and remotely control your astronomical imaging equipment.
With TheSky Fusion™ you can connect your mount, camera, autoguider, focuser, filter wheel, rotator, and dew heater to TheSky Imaging Edition to control them all from your tablet, smartphone, laptop, or desktop.
Operate your equipment from any modern web browser through Wi-Fi or the VNC app. An Ethernet port even permits a hardwired connection for an optimal experience. Though an Internet connection is not required, TheSky Fusion takes full advantage of being on-line when connected to the Web.
TheSky Fusion attaches to your mount and simplifies system setup, maintenance, and nightly tasks for maximum productivity. TheSky Fusion's flexible power-output ports can drive even the most complex hardware configurations. Four high-speed USB 3.0 ports and one legacy serial port can meet most communication needs. If not, one of the configurable 5V DC power ports can add an optional powered 4- or 7-port USB hub to provide up to 11 total USB ports.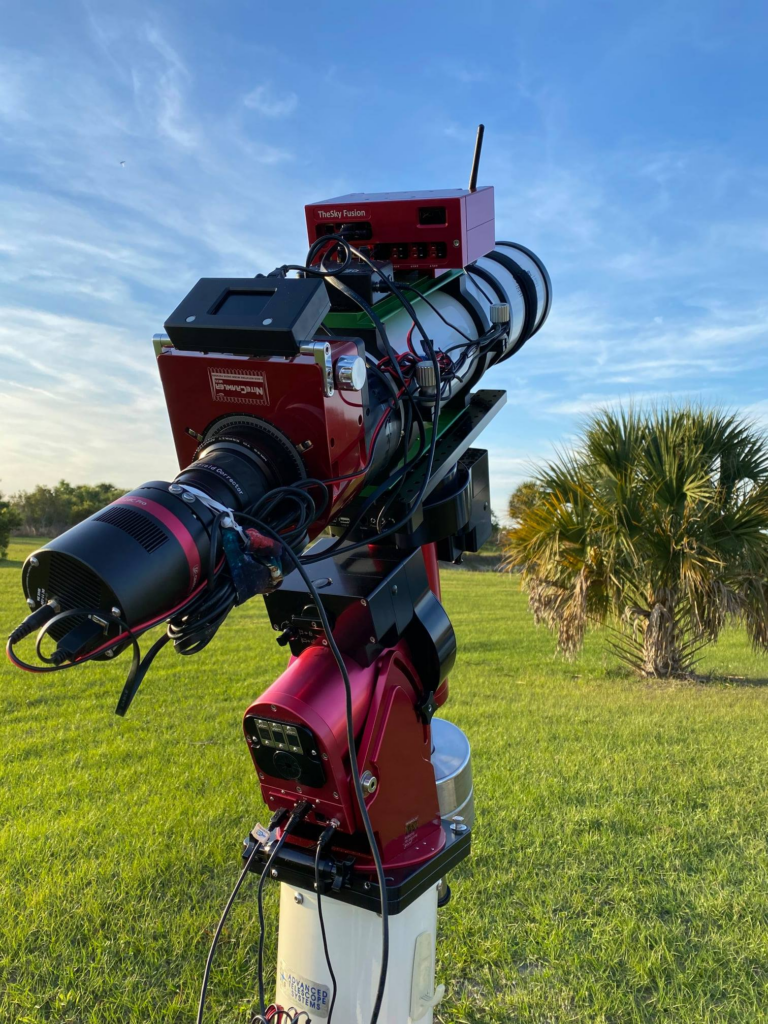 TheSky Fusion is the next big thing in astronomy. Please click here to find out why this is a product you'll love to own.
---
TheSky Fusion Specifications
Check out the TheSky Fusion Specifications (PDF) document for details about this exciting new product.
FAQs
Q. What is the price of TheSky Fusion?
A. $1,895.
---
Q. When did TheSky Fusion begin shipping?
A. TheSky Fusion started shipping July 16, 2020.
---
Q. Does TheSky Fusion include a power supply unit?
A. TheSky Fusion does not include a power supply unit. It can be powered using TheSky Fusion Power Supply Unit, and EGO Battery and TheSky Fusion EGO battery adapter (coming soon), or any 12V DC power supply that provides sufficient amperage to run the connected imaging equipment.
---
Q. What equipment can TheSky Fusion control?
A. See Supported Devices in TheSky Fusion Specifications (PDF) document for details about supported telescope mounts, cameras, autoguiders, focusers, filter wheels, and rotators. We will update this list as additional equipment is supported.
---
Q. How can I connect to and control my astronomy equipment?
A. TheSky Fusion can be used to control your astronomy hardware wirelessly with Wi-Fi (as a hot spot, or connected to an existing network) or hard-wired with Ethernet from any desktop, laptop, smartphone or tablet computer.
---
Q. Why is TheSky Fusion equipped with a GPS?
A. TheSky Fusion's integrated GPS unit ensures that TheSky's location, date and time are always up to date and accurate. Always having accurate location and time means one less thing to worry about, and is essential to maintain precision telescope pointing accuracy. And, if you own a Paramount, this level of accuracy will optimize Pro Track-assisted tracking performance.
---
Q. What are the red and black connectors on TheSky Fusion?
A. The eight power output ports on the front panel are Anderson Powerpole® connectors. Power cables that use these connectors are inexpensive, capable of handling high amperages, and are easy to make for the do-it-yourself enthusiast. These power ports can supply power for the most power-hungry equipment. The output voltage on three of the eight ports is configurable.
---
Q. If I already own TheSkyX Professional Edition for Windows or Mac, can I transfer this license to the Linux-based TheSky Fusion™?
A. In short, no. TheSky Fusion comes with TheSky Imaging Edition. While at first glance, the TheSky Fusion's™ software may seem identical to TheSkyX Professional Edition™ with the optional Camera Module, and the optional TPoint Module, TheSky Fusion™ includes additional functionality such as power switching, GPS integration, status screen output and Wi-Fi hot spot integration.
---
TheSky Fusion Equipment Power Cables
Use the tables below to determine which cables are required for your equipment.
---
Camera Power Cables
---
Focuser Power Cables
---
Filter Wheel Power Cables
| | | | |
| --- | --- | --- | --- |
| Model | Connector | Center Positive? | Cable |
| FLI (all models) | 2.1 x 5.5 mm | Yes | 2.1 mm Standard Cable |
| QHY | | | |
| QSI | n/a | n/a | Integrated into Camera |
| Starlight Xpress | None | n/a | None |
| Xagyl Communications | None | n/a | None |
| ZWO EFW | None | n/a | None |
---
Telescope Mount Power Cables
---
Rotator Power Cables
---